Snow &
Ice

Management

Our Commitment

Scenic Grounds Maintenance, LLC constantly monitors weather conditions to ensure safe operations on your property. Our experienced staff is on call 24 hours a day. Our commitment is to work with you to address your property's specific needs, with your best interests being our number one priority.

Services

Plowing
Our equipment includes everything from heavy duty snow plow trucks and skid loaders to front-end loaders with pushers. From flurries to blizzards, we have the right equipment to remove snow in an efficient and cost effective manner.

De-Icing
We have a variety of equipment that is right for every de-icing task. From granular spreaders to large de-icing trucks, we will apply an effective de-icing agent at the proper rate for the specific weather conditions. This will provide safe access to your site while being environmentally responsible at the same time.

Sidewalk Clearing
Sidewalk crews utilize everything from a standard shovel to ATVs and sidewalk sweepers. Our sidewalk crews are supplied with different options of de-icing material to take care of your specific site needs and a variety of weather conditions.

Snow Removal
We will work with you to determine the most cost effective solution for your site. On site removal is done through the use of large snow blowing equipment and off site removal using a wheel loader and dump trucks hauling to dump sites.

Equipment
Plow Trucks:
Our snow plows are outfitted with a variety of plow types and sizes ranging from 8' - 11' blades.
Deicing Trucks:
Salt spreaders are installed on our dump trucks that allow us to apply the proper amount of product to ensure safety, while being environmentally responsible.
Front end Loaders: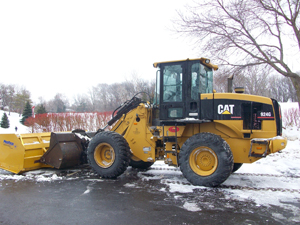 Clears large parking lots effectively and in a time efficient manner, and allows for quick loading of snow to haul offsite or stacking onsite.
©2011 Scenic Grounds Maintenance, LLC. | 8700 Xylite St NE Blaine MN 55449 | (763) 784-1840
Snow Plowing Bloomington, Snow Removal Roseville, Coon Rapids Snow Plowing, Landscape Design, Landscape Installation